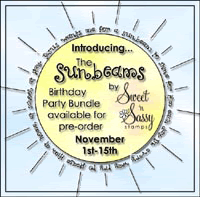 Happy 2nd Birthday,

Sweet 'n Sassy Stamps!

Sweet 'n Sassy Stamps
is celebrating its 2nd year in business next month and they have oodles of fun in store to make it a birthday to remember!!! They are introducing a precious new line of stamps called "
The Sunbeams
"! The Sunbeams were named after the song, "Jesus Wants Me for a Sunbeam." It is SNSS's hope that these little children will remind you of the precious sunbeams in YOUR life!
This new line consists of 4 characters: Emma, Luke, Owen & Caitlyn. Every few months SNSS will release a new series with a different theme. Each series will only be available for a limited time! Our first series is called Birthday Party in honor of their 2nd birthday :).
Sweet 'n Sassy Stamps
will be offering the whole set as a preorder starting November 1st through November 15th. The cost will be $20 for the Birthday Party Bundle. Once the preorders ship mid-November, they will sell the images individually, however when they are gone, they are gone! So get them while you can!!
CLICK HERE
to get more info on how to get your own set of SUNBEAMS!
Have a SUPAH DAY!